Beating the Bounds West
Start Point: Leatherhead town centre
Distance: 40 miles
Shorter ride: 16½ miles
A circular route from Leatherhead town centre (location map), the outbound half roughly following the western boundary of Mole Valley. The ride takes in Stoke d'Abernon, Cobham, Downside, Bookham Common, Effingham, Crossways Farm, Holmbury St. Mary, Ockley, Capel, Newdigate, Brockham and Dorking
| | | | | | |
| --- | --- | --- | --- | --- | --- |
| Abbreviations | TL turn left | TR Turn right | SA Straight ahead | SP signpost | RB roundabout |
Note Ride with care and courtesy to others - on shared paths and tracks, always give way to pedestrians.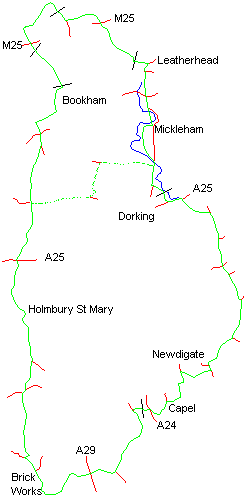 Start at the bottom of Leatherhead High street. TR into North St. Follow one-way system to lights at bottom of Station Approach. TL into Randalls Road. SA for 3 miles to T-junction (Seymours Garden Centre) (3m)
TR onto A245. Follow this road over railway bridge (Whoops!). Take 3rd turning L after bridge (Tilt Road). Continue SA towards Cemetery as road bears right. Take Bridleway to L of Cemetery (SP Downside). At road TR. After 400 yds TL onto bridleway across field to Downside. (NB Village pump & St. Michaels Chapel) (5m)
TL and immediately bear left onto Bookham Road. SA (under M25) to Bookham Common. Just before Car Park, take 1st main track to Right, and keep on main track to Merrits Cottage (NT Map). Fork R through wooden posts. Continue SA to Tunnel Car Park. [For short ride return to Bookham & Fetcham through Common] (7m)
TR out of Car Park onto road and continue past Bookham Station - road bears left into Little Bookham Street. (Windsor Castle Pub.) Continue to junction with Lower Road. CARE! (8m)
TR into Lower Road, follow cycle track on LHS which ends at Howard School. Continue on road to T-junction. TL into The Street and continue SA to traffic lights. CARE! SA into Beech Avenue (9m)
Road climbs over North Downs. Continue to crossroads (Ranmore) (11m)
[TL here for shorter ride and return to Leatherhead via Ranmore Common and West Humble.]
SA (SP Leith Hill Link) and continue up through woods. Road then suddenly drops STEEPLY with HAIRPIN CORNERS - Take GREAT CARE!. SA over railway to A25 (Guildford - Dorking Road). (13m)
SA over A25 (CARE) into Raikes Lane. Ignore LH turn, and go over hill past Raikes Farm and down (CARE).
At foot of hill, TL opposite Volunteer Pub, into Water Lane. Take 1st Right, up slope to Horsham Road (take care to avoid any oncoming traffic in Water Lane when turning right). TL into Horsham Road, through Felday and Holmbury St Mary, where there are two pubs. [suggested lunch stops]. (15m)
SA along main Horsham Road through Holmbury St Mary, avoiding LH and RH turns. Go down hill out of Holmbury St Mary and take 1st Right towards foot of hill (CARE), into Back Lane.
TR at first junction, into wider road (Ockley Road), and then 1st Left after about 50 yards, and past Cobbetts Farm. (16½m)
Ignore Surrey Cycle Way sign on left and at first junction go SA into Lower House Lane - a Byway with a potholed but firm surface. At end of Byway, TR and almost immediately Left into Horsham Road, Ewhurst Green. Take 2nd Left into Broadstone Road (and join Surrey Cycle Way, which is now followed). TR opposite Punch Bowl Pub (Oakwood Hill) into Boswells Lane. (22m)
Avoid LH turn to go SA at Cross Roads with A29 Main Road, into Paynes Green Road. Carry SA along this road until T junction with Coles Lane, Ockley. (25m)
TR toward Ockley Railway Station. SA under Railway Bridge to junction with Capel By-pass (A24). SA over By-pass (CARE) and TL at T junction into the centre of Capel. [Tea etc on Sunday at Church from 3pm] (27m)
Take the road opposite The Crown pub (SP Newdigate) for 1¼ miles to T junction. TR (SP Newdigate) and after ¾ mile TL at next T junction. Go through Newdigate, past a road on L, and after 1 mile TL (just after Surrey Oaks pub). After 1 mile reach Shellwood Cross. TL (SP Brockham) and follow road (2½ miles) to Brockham. (34m)
TL at Brockham Green, and, after crossing stream, TR onto Bridleway over Golf Course. At the end of the Golf Course, join Club House road and go down hill to Main Road (A25) TAKE CARE. TL onto pavement for 300 yards until railway reached. TR into Pixham Lane (CARE - Dismount if necessary). At the A24 cross carefully to the western cycle path, or continue north on the eastern cycle path until the underpass. Continue north to Leatherhead on the western cyclepath.
The ride is covered by Ordnance Survey Explorer Maps 146 (Dorking, Box Hill and Reigate) and 134 (Crawley and Horsham).
Home | Brockham | Norbury Park | Beating Bounds East | Little Villages