Family Ride through Norbury Park
Start Point: Bocketts Farm, Leatherhead
Distance: 7 miles
The route is all on good tracks, quiet roads or the cycle way between Leatherhead and Dorking. It is suitable for families and 'short distance' cyclists. The route across Norbury Park involves a slight climb for the first mile which is rewarded by some magnificent views across Mole Valley, and once at the top - it's downhill all the way to Westhumble (but there's a good climb on the way back).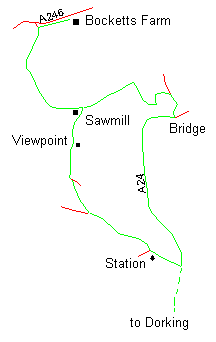 Start from the Car Park at Bocketts Farm (location map). Refreshments and Loos are available.
Follow the drive up towards Bocketts Farm Roundabout, just before the roundabout turn left. Keep to the main track. You will drop down to a crossing, continue straight across towards Westhumble. Bear left, rising gently until the view opens out and climbs more steeply to the sawmill (1.25 miles). At the seating area bear right towards Westhumble; through a gateway into beautiful woodland. It is worth taking the detour to the left to the viewpoint. The track then drops steeply and has some sharp bends - take care! At 2.5 miles you will join Crabtree Lane which continues downhill past houses. Watch out for cars here. The lane joins Westhumble Street almost opposite Boxhill Station. Take care as you join this slightly busier road.
Continuing our route downhill from Boxhill Station, you reach the A24 after about 250yds. This is a major road with fast traffic. When you reach the junction you can make a detour into Dorking (1.5 miles to the town centre) - turn right down the cycle track. But to continue the route, turn left on the cycle track toward Leatherhead. Opposite the junction turning for B2209 Mickleham, turn left over the Mickleham Bridge, keep to the road. Turn left at the island after the bungalows, the road climbs toward Norbury House and onto the Sawmill. Follow the track in reverse back toward Bocketts Farm.
The ride is covered by Ordnance Survey Explorer map 146; Dorking, Boxhill and Reigate.
All cyclists are advised to wear a helmet.
Home | Brockham | Beating Bounds East | Beating Bounds West | Little Villages