Family Ride to Brockham
Start Point: Dorking Station
Distance: 6 miles
A gentle circular ride along quiet country lanes from Dorking Station (location map).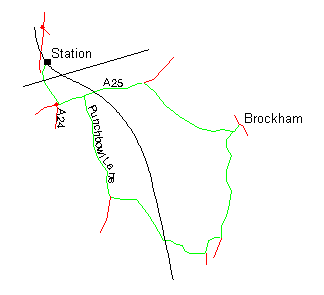 Go down Station Approach and turn left (this is a major road with fast traffic) onto the cycle path running along the A24 some 100 yards, join the shared pedestrian/cycle before the railway bridge. Up to the Deepdene Roundabout (please take great care as cars may be exiting driveways), follow the path round to the left and along to the 'Toucan' crossing.
Cross the A25 at the 'Toucan', turn left, and continue along the A24 Reigate Road shared pedestrian/cycle path, towards Reigate. Turn right up Punchbowl Lane, signposted Surrey Cycleway. A steepish hill up away from Dorking gives way to a steady downhill. Turn left into Tilehurst Lane and follow the road under the railway to a 'T' junction; turn left onto Parkpale Lane; left again at the 'T' junction into Bushbury Lane that extends into Old School Lane.
Follow the road for a mile, over Tanners Bridge and up into Brockham. Light refreshments may be available at the church hall on the green (ice creams can be bought at the village shop).
To return to Dorking exit Brockham green into Tanners Hill, over Tanners Bridge; some 100 yards after the bridge turn right up the stoned path along the Old Coach Road (very slight incline). At the end of the Coach Road, Betchworth Golf Club, turn right down the hill and straight ahead up to the junction with A25 Reigate Road.
Join the shared pedestrian/cycle path adjacent to the A25; cycle west along the path past the food services on the left and onto the 'Toucan' crossing at Deepdene Roundabout. Cross the A25 at the 'Toucan' onto the joint pedestrian/cycle path; turn left, follow round the bend to the right along the shared pedestrian/cycle path alongside the A24 (taking great care as cars may be exiting driveways). Bear right into Station Approach.
The ride is covered by Ordnance Survey Explorer map 146; Dorking, Boxhill and Reigate.
All cyclists are advised to wear a helmet.
Home | Norbury Park | Beating Bounds East | Beating Bounds West | Little Villages